Bamboo Charcoal EYES – Premium Anti-Aging Collagen Gel Pads 1 Pack = 3 Pairs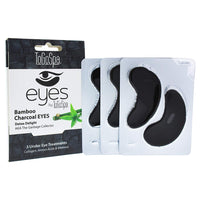 This is a powerful brush with a rectangle shape. It is a ceramic nylon tips for superior comfort with a non-slip handle that facilitates styling provides exceptional performance.
Luxurious Under Eye Hydration. Collagen gel pads that soothe, brighten, de-puff and hydrate in one 15-minute treatment.
Replenishing, re-plumping ingredients makes EYES by ToGoSpa a great all-around anti-aging, moisturizing, rejuvenating experience.
Activated by the body's temperature, the nutrients stored in each flexible EYES by ToGoSpa gel pad, are absorbed directly into the delicate dermis found just below the eye. Each silky application is infused with a combination of natural high-density marine collagen, enzymes, amino acids, natural marine minerals, trace elements, proteins and vitamins. With just one 20 minute application, you will see improved elasticity, texture and overall appearance of the skin below the eye.
Improves circulation and stimulates production of new, youthful skin cells. Relaxes, calms, and pumps up moisture-retention levels to new heights. De-puffs and reduces dark circles with skin-brightening ingredients. Relieves irritation and redness calming compounds. Minimizes pores with clarifying, cleansing oils. Hydrates crepe-like skin and resurfaces fine lines.
irections: Apply pads below eyes Leave 15 - 20 minutes Remove & discard Feel great. Look great.