IMAK Compression Arthritis Elbow Sleeve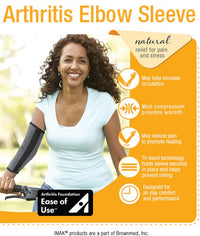 IMAK Arthritis Elbow Small
ALL-DAY COMFORT. Designed with all-day comfort in mind, the IMAK Compression Arthritis Elbow Sleeve is the ideal choice for people living with chronic discomfort from arthritis, fibromyalgia, overuse, or other conditions.
NON-INVASIVE ARTHRITIS RELIEF. The Sleeve is designed to provide effective, non-invasive arthritis relief, providing mild compression for warmth and helps support circulation, which ultimately reduces discomfort and promotes healing.
BREATHABLE COMFORT. Made of soft, breathable cotton material to keep hands dry, it is comfortable enough to wear all day and night.
SECURE IN PLACE. Its tri-band technology holds sleeve securely in place and helps prevent rolling. Plus, it features a vented inset for enhanced breathability and comfort.
IDEAL FOR DAILY LIVING. This compression sleeve provides effective compression therapy for those suffering from arthritis, fibromyalgia, neuropathy, and joint swelling, making it ideal for activities of daily living, including gardening, sports and hobbies, office use, and more!