Depileve Intimate Folisan - Post Wax Gel with Roll-on Applicator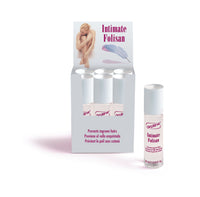 The Depileve post-waxing products complete the waxing treatment by taking care of the skin from various angles. Moisturizing lotions cleanse, soothe, regenerate and hydrate the skin. Their different formulas adapt to each area and type of skin. Hair inhibitors weaken and slow down hair growth whilst moisturizing and soothing the skin. Specific ingrown hair treatments disinfect, heal and regenerate the skin, getting rid of ingrown hairs and preventing the appearance of others. Depileve is the leading brand in the world for professional waxing systems sold in 91 countries and used in over 120 worldwide. Depileve believes the best professional waxing systems must be accompanied with bespoke cosmetics that read and condition to reveal beautiful skin before and after hair removal. The wide range offers the beautician the possibility to treat any imaginable skin condition or type. With Depileve, you have the peace of mind that comes from choosing the number 1 waxing brand, maximizing the comfort and effectiveness of each treatment, with specific skin care products that enhance the results of each professional waxing treatment.
Folisan helps to prevent ingrown hairs, razor burn and razor bumps.
The most effective treatment to prevent folliculitis.
Its roll-on design makes it ideal for home use and for applying to hard-to-reach areas.
Perfect for bikini line area, underarms and beards. Great for men and women.
Includes six 10ml roll ons.