Therabath Paraffin Wax Refill - 24 lbs - Scent Free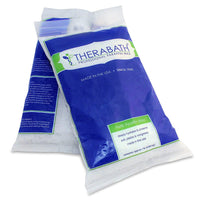 Unscented When additional paraffin is needed simply add proper amount of beads to fill tank Beads are easy to pour (dispense) and quick to melt Beads are packaged in one-pound bags Manufacturer: WR Medical (n) Size: 10 X 8 X 1.06 Made in: United States Product type: Physical Therapy Complete name: Paraffin Wax Refill- Thera bath 1 lb. Unscented Beads
MADE IN THE USA! Professional quality Paraffin from Therabath will leave your skin soft, youthful, deeply moisturized, and healthy looking. Can be used in all paraffin baths.
SOFT AND PLIABLE! Our paraffin wax is soft and pliable, eliminating the mess found with dry, brittle paraffin waxes. Even use the pliable ball of wax to effectively exercise the hand during rehabilitation.
EFFECTIVE AND CLEAN! Therabath paraffin wax remains residue-free, while building thick, pliable layers in an easy-to-remove glove.
EXPERTLY BLENDED! All Therabath paraffin is odorless, colorless and hypoallergenic, then lightly scented and tinted. Blended with all required oils - no need to add additional oil! Contains only therapeutic-grade essential oils. Paraben free.
For over 90 years paraffin moist heat therapy has been used to relieve pain, inflammation and stiffness caused by arthritis. A form of thermotherapy, paraffin treatments effectively increase blood flow to aid in rehabilitation, or to warm an area of the body prior to other therapies or exercise.