Biofreeze® Professional Pain Relieving 360° Spray - 4oz.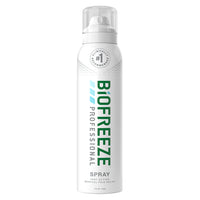 Biofreeze Cold Therapy Pain Relief, the #1 used and recommended topical analgesic brand, takes the legendary Biofreeze experience and makes it even better for you and your patients. The formula provides a longer lasting experience, thanks to additional menthol in the Biofreeze Professional formula. The convenient 360° spray bottle makes application easier than ever. The new Biofreeze Professional helps alleviate pain from backaches, arthritis, sore muscles and joints, sprains, strains, and bruises. ItÕs a great alternative to other forms of pain relief because it is non-systemic, non-narcotic and contains no NSAIDs (non-steroidal anti-inflammatory drugs), salicylates or other addictive substances.
Biofreeze contains United States Pharmacopeia (USP) grade menthol to provide pain relief that works™. The new formula is still free of parabens and propylene glycol.
Features a proprietary herbal blend
Free of parabens and propylene glycol
Not tested on animals
Made in the USA