BodyMed® 2-Ply Drape Sheets – White Disposable Paper Drape Sheets for Nonsurgical Draping – case of 100 Sheets – 40-Inch x 48-Inch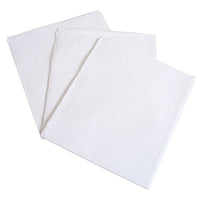 BodyMed® 2-Ply Drape Sheets
Offer Comfort & Privacy
The BodyMed 2-Ply Drape Sheets are designed for nonsurgical draping, offering comfort and privacy. These patient drape sheets are hygienic, disposable, and durable, making them the ideal choice for all of a user's nonsurgical draping needs. Made with convenience in mind, the BodyMed 2-Ply Drape Sheets can be discarded after each visit. These soft, yet sturdy white drape sheets help prevent cross contamination while providing comfort to patients.
Soft, Yet Durable
These full-length drape sheets from BodyMed are 2-ply and opaque, making them soft, strong, and protective.
Modest Protection
The BodyMed 2-Ply Drape Sheets are ideal for maintaining user comfort while protecting their modesty in a nonsurgical healthcare setting.
Convenient to Use
These single-use, nonsurgical drape sheets are 60" x 40" and sold in a case of 100 sheets.
Multipurpose Sheets
The BodyMed 2-Ply Drape Sheets can be used during nonsurgical exams to protect users, equipment, or bedding.
Drape Sheets Can Be Used In:
Hospitals
Physicians' Offices
Clinics
Ambulances
Medical Wards
Single-Use
Use the BodyMed 2-Ply Drape Sheets to offer comfort and privacy to users. These disposable sheets are single-use, which means you don't have to worry about laundering.
Two Layers of Durable Coverage
Stock your facility with two layers of durable coverage and protection with the BodyMed 2-Ply Drape Sheets.
Best-In-Value Products
For more than a decade, BodyMed has been providing healthcare professionals with reliable, affordable products for patient care and clinic operations. BodyMed is synonymous with quality and cost-effective utility, which is why you'll find BodyMed products in clinics across the country.
Cost-effective, reliable products.
Designed for patient rehabilitation.
Ideal for healthcare professionals.