BodyMed Aluminum Shower Chair with Back, a Disability Aid for The Shower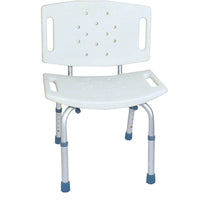 Shower in Comfort
Add an aid to your shower with the durable BodyMed Aluminum Shower Chair. This lightweight and sturdy chair features a polyethylene seat and rustproof aluminum for a comfortable, durable showering experience.
Features
Lightweight and sturdy
Materials: polyethylene and aluminum
Height adjustable: 15.35" to 19.29" (39 cm to 49 cm)
Maximum weight: 300 lb.
Non-slip rubber feet to ensure the chair stays in place
Shower Securely
Designed with your comfort in mind, the BodyMed Aluminum Shower Chair features non-slip rubber feet to ensure the chair stays in place when you sit down, stand up, and during use.
Adjustable for Your Comfort
Sit easier with the chair's height adjustable feature. Target your right height to help reduce any discomfort while you shower.
Choose What Works for You
The BodyMed Aluminum Shower Chair is available with or without a back so you can choose the design that's right for you!
For Multiple Users
With a maximum weight of 300 lb., enjoy security while you shower. Plus, with an adjustable range of 15.35" to 19.29" (39 cm to 49 cm), multiple users in your home may benefit from it!
Aid for Daily Living
Whether for yourself or a loved one, this shower chair provides independence and dignity along with comfort and stability.
Recover with Support
Use in the shower for those who require extra support while they shower—perfect for those recovering from surgery, in rehab, as a disability aid, and more.
Best-In-Value Products
For more than a decade, BodyMed has been providing healthcare professionals with reliable, affordable products for patient care and clinic operations. BodyMed is synonymous with quality and cost-effective utility, which is why you'll find BodyMed products in clinics across the country.
Cost-effective, reliable products.
Designed for patient rehabilitation.
Ideal for healthcare professionals.