BodyMed Cervical Traction Device, Over The Door Neck Traction Device, Cervical Traction Unit for Physical Therapy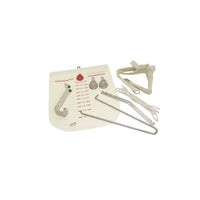 CERVICAL TRACTION SET IS EFFECTIVE FOR physical therapy, neck pain, arthritis, disc bulges, herniations, and more. FSA eligible.
OVER THE DOOR CERVICAL TRACTION DEVICE MAKES IT EASY to do physical therapy exercises at home, in the office, or traveling.
EASY TO ASSEMBLE, NO TOOLS NECESSARY, AND INCLUDES VINYL WEIGHT BAG with graduated scale up to 20 pounds. Package also includes one size foam padded head halter, fits most as well as all components.
SIMPLE TO USE as directed by your healthcare professional.