BodyMed® Disposable Exam Gowns – Disposable Medical Gowns for Adults – Patient Paper Gowns – Case of 50 – 30" x 42" – White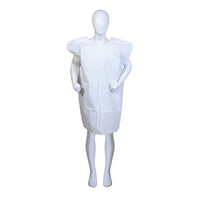 Lightweight, Disposable Medical Gowns for Adults
For full-length (30" x 42") coverage, choose the BodyMed Disposable Exam Gown. This full-length , short-sleeved gown features a belt, perfect for routine medical exams. Made of premium 3-ply tissue/poly/tissue (TPT) that acts as a moisture barrier, these gowns help protect against the spread of infection.
Single Use Only
BodyMed Disposable Exam Gowns are designed for single-use that can be discarded after each patient visit to help in preventing cross-infection.
High Quality Gowns
These disposable patient gowns are ideal for use in physicians' offices, clinics, and wards.
Ties at the Waist
Designed with patient privacy in mind, these adult medical gowns are closed using a belt tied to the waist.
Easy to Stock Up
Easy to use, simply slip on and tie at the waist to wear. Plus, these exam gowns are sold in cases of 50, making it easier to stay stocked up. White only.
Versatile & Comfortable
BodyMed® Exam Gowns provide durable coverage while allowing your patient's body to breathe. Comfortable, versatile design allows the exam gown to be worn forward or backward, so accessibility is never an issue.
Best-In-Value Products
For more than a decade, BodyMed has been providing healthcare professionals with reliable, affordable products for patient care and clinic operations. BodyMed is synonymous with quality and cost-effective utility, which is why you'll find BodyMed products in clinics across the country.
Cost-effective, reliable products.
Designed for patient rehabilitation.
Ideal for healthcare professionals.