BodyMed® 14" x 27" Black Digital Electric Moist Heating Pad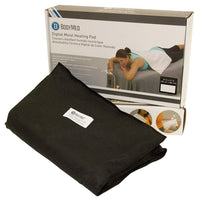 Size: 14" x 27" |  Color: Black
BodyMed Black Digital Electric Moist Heating Pad Delivers Therapeutic Warmth at Source of Pain 

Deliver Therapeutic Warmth Right to the Source of Your Patient's Pain

Give patients temporary relief from muscle strains and sprains, joint pain, and muscle aches with a White Digital Moist Heating Pad. Set, monitor and easily adjust treatment temperature and time using this heating pad's easy-to-read LCD controls. A lockout feature will guard against unintended changes in treatment from touching of the controls. The BodyMed® Digital Moist Heating Pad requires no water, but instead produces its own moisture using the humidity in the air. Designed for multiple application areas, this Moist Heating Pad is available in 4 different sizes; each includes a soft fleece cover and an instruction manual.

Digital Moist Heating Pad Features


HEATING PAD for temporary pain relief associated with muscle strains and sprains, joint pain, and muscle aches.
WATER NOT REQUIRED; it produces its own moisture using humidity in the air.
EASY-TO-READ LCD controls allow user to set and monitor treatment temperature and time.
FEATURES lockout ability guards against unintended touching of the controls during treatment.
Shut-off can be set in one-minute increments up to one hour Automatic shut-off after 15 minutes.