HearRight Volume Control Ear Plugs – Soft Foam Ear Plugs for Hearing Protection – (2-Pack) – Large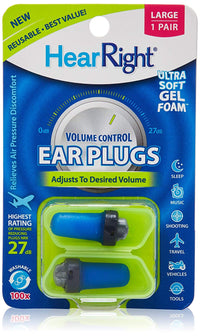 VOLUME CONTROL KNOB. Lets you manually adjust the amount of sound allowed to pass through – from full hearing protection to completely open for conversations.
INTERNAL VALVE MEMBRANE. Slows cabin air pressure changes during flight, relieving air travel discomfort.
EASY FIT DESIGN. Eliminates rolling, re-fitting and contamination of ear plugs.
GELFOAM INNER LAYER. The waterproof, washable and ultra soft GelFoam inner layer seals out dirt and provides a comfortable fit.
SOUNDX SOUND DAMPENING CORE. Reduces vibration 30% more than traditional plastics.