Adrien Gagnon - Royal Jelly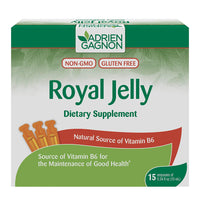 10 ml - Source of Vitamin B6, Maintenance of Good Health, 15 Ampoules
The honey-flavored royal jelly is an excellent tonic in periods of stress, fatigue, overwork, and recovery and helps regain strength gradually. Liquid formula for quick assimilation, ideal for people who have difficulty swallowing capsules. Royal jelly contains a rich quantity of nutrients essential for the maintenance of a good health, such as complex B vitamins. -The product's gentle toning action helps to regain strength, during convalescence and chronic sickness.
NATURALLY MAINTAIN YOUR HEALTH with our deliciously honey-sweetened Royal Jelly, plentiful of vitamin B6, a vitamin helping support overall health in individuals
VITAMIN B6 IS USEFUL FOR the development of brain and immune function, with possible support for memory, cognitive, nervous and diabetic issues.
VITAMIN B6 SUPPLEMENTATION could help prevent nerve damage in hands and feet. Our natural, easy to use ampules contain the perfect dose of royal jelly you need!
USING NATURAL INGREDIENTS ONLY, we offer you a gluten free, lactose-free, non-GMO formula. Our promise to use natural products means we NEVER use harsh chemicals found in prescription medications. We believe our Royal Jelly will help support you during physical and mental fatigue.
ADRIEN GAGNON is a proud Canadian company, providing consumers with the highest-quality natural products, vitamins and supplements. Our fans and customers are our most cherished asset, to whom we offer a promise of quality, satisfaction and health improvement. We understand how important your health is and stand by our 100% money back guarantee to vouch for your satisfaction.