Body Sport® Digital Multi-Functional Timer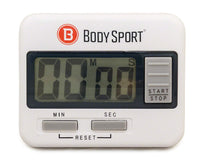 This digital timer can count up or down so it works as a stopwatch or countdown timer.
Whether using it for exercise, cooking, or tracking kids' timeouts, the Body Sport digital timer is a handy and accurate time keeping tool. This timer runs on just one AAA battery that's included, so you'll be ready to keep time the minute you take it out of the box.
This timer counts up like a stopwatch for timing runs and other exercise.
Also acts as a countdown timer for keeping track of time while cooking, doing laundry and other tasks when a reminder comes in handy.
The Body Sport timer has a digital display and is easily controlled with just three buttons.
This timer runs on just one AAA battery which is included with your purchase.
Keep accurate track of time with this multi-functional timer.