Greens First® Lean™ Carb Blocker 5.0 Dietary Supplement – Dietary Supplements for Weight Loss – Nutritional Supplements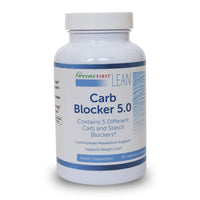 SUPPORTS WEIGHT LOSS. Carb Blocker 5.0 is part of the Greens First LEAN complete line of nutritional supplements formulated to support healthy weight loss and weight management.
KEEPS YOU ON TRACK. With a formula that combines five powerful active ingredients, Carb Blocker 5.0 prevents one bad meal from disrupting your diet. It may reduce blood sugar spikes after a meal, as well as low-sugar events.
WORKS FIVE WAYS. Greens First Carb Blocker 5.0 works to help stop your body from turning sugar into fat: 1) Inhibits starches from being converted into sugar. 2) Reduces the absorption of sugar into the bloodstream. 3) Slows the digestion of sugar. 4) Makes muscles more sensitive to insulin so they absorb more sugar. 5) Inhibits fat storage, forcing your body to burn excess sugar instead of storing it as fat.
KEY INGREDIENTS. Carb Blocker contains the following key ingredients: White Kidney Bean Extract, to inhibit the conversion of starch into sugar; Gymnema Sylvestre Extract, to block sugar absorption in the intestines and also stimulate production of insulin to lower blood sugar; Conjugated Linoleic Acid (CLA), to help maintain normal blood sugar by forcing sugar into the muscles instead of making fat; Green Coffee Bean Extract, to reduce blood sugar levels after a mean without creating a low
EASY TO TAKE. The typical dosage of Greens First LEAN Carb Blocker 5.0 is three vegetarian capsules prior to ingestion of a meal containing carbohydrates or starches.