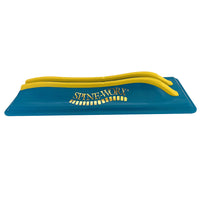 Back Realignment Device
Designed by a chiropractor, the Spine-Worx is a natural back support system that uses your own bodyweight to apply controlled pressure to the spinal vertebrae. As you lie on this device, the spine is pressed firmly against the length of its two unique padded and contoured rails, injection-molded to fit the natural shape of the mid- and lower back.
Cold Therapy Compression Sleeve Benefits
Child friendly, nontoxic, & leakproof
Can apply directly to bare skin straight from the freezer
Sleeves are interchangeable
Great for recovering sore muscles & treating joint inflammation
Helps reduce swelling and pain
May be left in the freezer indefinitely until ready to use
Will remain flexible even at -20°F
Stays cold for the recommended 15–20 minutes of cryotherapy
Made in the USA
Supports Posture
The Spine-Worx is designed to support mild scoliosis, muscle discomfort, back stiffness, muscle tension, and poor posture.
Easy to Adjust
This back realignment device can be customized during use by changing the position of your arms or legs on the device, which adjusts the pressure applied to the spine.
Innovative
For just 15 minutes a day, this innovative back realignment device can help to soothe your back discomfort and support improved mobility.
Using the Spine-Worx
Sit on the floor with the Spine-Worx system at the base of your spine.
Slowly lean back with your feet out in front of you and hands or elbows on the floor so that the Spine-Worx grooves align on either side of your spine.
Use a pillow to support your head on a level plane with the spine.
Spine-Worx Tips
Lie on your back so that your back is positioned directly on the Spine-Worx channels.
Make sure your body is relaxed and remains still. The first two or three minutes can be uncomfortable, but your spine will begin to conform to the Spine-Worx system and sore muscles will begin to relax.
You may start with 5 or 10 minutes at first and work your way up to 15 minutes.
After Using the Spine-Worx
When you have laid on the Spine-Worx for up to 15 minutes, slowly roll to one side of the device with your elbows and arms underneath you and rest for 5 minutes while laying on your stomach and chest.
Slowly lift your body with your knees on the ground, and rest for another 2 minutes in this position. Once 2 minutes have passed, you can begin to stand up.
You will feel that your spine is now properly aligned and straight. You may even feel taller now that your spine has been aligned.
FDA Approved
The Spine-Worx Back Realignment Device is 510(k) certified. A 510(k) is a premarket submission made to FDA to demonstrate that the device to be marketed is as safe and effective, that is, substantially equivalent, to a legally marketed device (section 513(i)(1)(A) FD&C Act) that is not subject to premarket approval. Registration number: 1049893.