FreezeSleeve Cold Therapy Compression Sleeve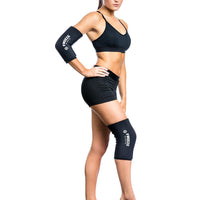 Cold Therapy + Compression = Soothing Relief
Revolutionize your cold therapy and compression treatment with the Freeze Sleeve Cold Therapy Compression Sleeve! Designed to provide relief and recovery for aching muscles and joints, this sleeve offers users of all ages 360 degrees of cold compression therapy to 100% of the treatment area. It also features nontoxic antimicrobial gel that eliminates odors! Enjoy superior cold compression therapy with the reusable Freeze Sleeve!
Cold Therapy Compression Sleeve Benefits
Child friendly, nontoxic, & leakproof
Can apply directly to bare skin straight from the freezer
Sleeves are interchangeable
Great for recovering sore muscles & treating joint inflammation
Helps reduce swelling and pain
May be left in the freezer indefinitely until ready to use
Will remain flexible even at -20°F
Stays cold for the recommended 15–20 minutes of cryotherapy
Made in the USA
Variety of Uses!
Relief from arthritis, tendinitis, inflammation, tennis or golfer's elbow, cubital tunnel syndrome, fibromyalgia, and orthopedic discomfort
Post-game recovery routine— great for baseball & basketball players, CrossFit, runners, and weight lifters
Post-surgery rehab routine to minimize swelling
Stabilizing and supporting inflamed elbow or knee joints (ideal for construction workers or mechanics suffering from years of joint stress)
An alternative solution to medication for targeted pain relief
No Skin Burns or Stinging
The unique material of the Freeze Sleeve prevents any stings or skin burns like ice. No need to worry about freezer burns or accidental tissue damage from over-icing!
No Leaks!
Durable and flexible, the Freeze Sleeve is made with a specially formulated solid gel covered in a soft compression fabric, meaning no leaks! Plus, the compression design allows the Freeze Sleeve to be used comfortably on multiple areas of arms and legs.
Portable,
On-The-Go Therapy
The Freeze Sleeve's easy slip on process eliminates the need for messy ice bags, cumbersome wraps, and multi-step products, allowing for full range of motion while you wear it. Simply slide on the cold sleeve for immediate relief!
Total
Coverage
Stay active as you recover with the Freeze Sleeve. Its simple, stay-put design plus 360° coverage allows you to apply daily cold therapy compression treatment on the go! No need to fiddle and fuss with straps, wraps, or multiple ice bags!
Freeze It. Sleeve It. Relieve It.
Step 1: Freeze.
Insert the Freeze Sleeve inside the protective sealed bag to prevent the sleeve from absorbing any moisture or outside smells.
Place it into your freezer for 2 hours to reach the optimal temperature.
To ensure maximum cold, turn down your freezer to the coldest setting. The sleeve will remain flexible even at -20°F.
Step 2: Wear.
Once your Freeze Sleeve is cold, slip it onto your knee, elbow, shin, ankle, calf, wrist, etc. to relieve joint and muscular discomfort.
You should always insert your hand or your foot into the non-threaded end of your Freeze Sleeve; i.e., the end without the sewing.
Step 3: Relief!
Experience soothing relief fast!
Recommended to use for relief from arthritis, tendinitis, inflammation, tennis or golfer's elbow, cubital tunnel syndrome, fibromyalgia, and orthopedic discomfort.
Also use as part of your recovery & rehab routine.
Find Your Measurement!
Available in 6 sizes, find the right Freeze Sleeve to fit your measurements! To experience the recommended amount of cold therapy, your Freeze Sleeve should fit the target area without being too tight. A tight, overstretched fit will deplete the sleeve of its coldness faster. If you're in between sizes, select the bigger size.
Size It Right from the Start
Small: 8 in.–10 in. (20 cm–26 cm)
Medium: 10 in.–13 in. (26 cm–33 cm)
Large: 13 in.–16 in. (33 cm–41 cm)
X-Large: 16 in.–20 in. (41 cm–51 cm)
XX-Large: 20 in.–24 in. (51 cm–61 cm)
XXX-Large: 25 in.–30 in. (63 cm–75 cm)
Transfers Cold to the Skin & Muscles
The Freeze Sleeve cools and soothes sore muscles and joints by transferring the cold to your skin and muscle tissue as it absorbs your body's heat. The length of time the cold is transferred to your body is specifically calibrated for the recommended exposure to cold therapy.
Perfect for Direct-To-Skin Contact
The unique compression fabric of the Freeze Sleeve allows for direct skin contact straight from the freezer without fear of skin burns or stings.
Best
Practices
For best results, chill the sleeve for at least 2 hours at your freezer's lowest temperature setting for a therapeutic cryotherapy experience anywhere—at home, in the gym, or wherever you are!
Easy
to Clean
To clean, use a damp cloth to mildly rub the outer layer of fabric. Allow the sleeve to completely air dry before putting it back into the freezer. Do not get your Freeze Sleeve wet. The gel will absorb water and swell. If your Freeze Sleeve becomes damp, place it on a flat, dry surface and allow it to fully air dry. Do NOT use wet towels under your Freeze Sleeve. Reminder: Always remove your Freeze Sleeve prior to defrosting the freezer.
About the Freeze Sleeve
Hello, my name is Mike Riordan, and I am the inventor, founder, and CEO of Freeze Sleeve. I created the Freeze Sleeve to provide relief for my youngest daughter's competitive gymnastics training injuries. As I looked for an alternative to ice or cold packs that were too cold and could burn her skin, I knew there had to be a better solution. After years of development and personal use by my children, weekend warriors, and now professional athletes, I believe Freeze Sleeve is that solution. Could we actually make a product that delivered cold therapy in a comfortable, easy-to-use compression sleeve that was child friendly, nontoxic, leakproof, and proudly made in the USA? That's exactly what we did! I hope you enjoy your Freeze Sleeve!