Body Sport® Neck Pillow - Standard Firmness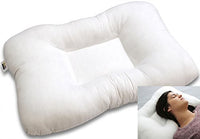 Standard Firmness
The Secret To Natural Neck & Spine Alignment!
Cervical Support Pillow Works As You Sleep Comfortably All Night Long
Cervical traction is a slight stretching of the neck. The neck, or cervical spine, has seven vertebrae. Any of these can be injured from whiplash in a minor car accident, or even from sitting for extended periods of time at work or while driving. Some people may refer to this as a cervical spondylosis pillow and other comparable pillows like the tricore cervical pillow. We cannot guarantee cervical pillow for neck pain relief however many people have experienced life changing results just from this one product.


Key Features:
Cervical Spine Pillow Is Breathable & Gentle To The Touch
Experience Perfect Firmness From The Industry's #1 Polyester Fiber "Fortrel"
100% White Cotton Cover Is Good For Allergies
Square Shaped Center Supports Greater Personalized Comfort
Fits All Standard-Sized Pillowcase To Match Any Bedding

Hear What Other People Are Saying:

"What I like most about this pillow it is its firmness. It's about as firm as you can get without it being hard."
"It really can help relieve the pain in my neck."
"It feels like when I am at the chiropractor and they are gently tractioning and pulling up on the neck, which feels great"
"I've used this for over a year now, my morning neck pain is gone and it helps me sleep in a single position without discomfort."
"The morning after the first night I used this was the first morning I woke up without a headache."
Experience The Same Relief Today!

Try It Now 100% Risk FREE With Our Money Back Satisfaction Guarantee!
FIND RELIEF & Improved Quality Of Life As Our Cervical Traction Neck Pillow Aligns The Spine In It's Natural Position
SLEEP COMFORTABLY On Your Side Or Back w/ Therapeutic Cervical Neck Pillow
WAKE UP RESTORED From Complete Night's Sleep On The Perfect Cervical Pillow Firmness
NATURAL ORTHOPEDIC DESIGN Cradles Your Head & Neck Which May Help Relief For Sufferers of Snoring, Insomnia & Stress
100% MONEYBACK GUARANTEE! If You Aren't Satisfied Return Your Cervical Spondylosis Pillow For A Complete Refund