Economy Knee Scooter and Knee Walker by BodyMed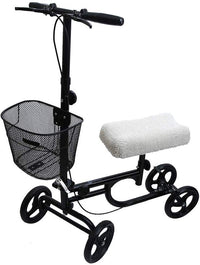 The Portable Knee Walker for Increased Mobility
The lightweight, foldable BodyMed Knee Walker with attachable basket is a sturdy, durable, and comfortable 4-wheel mobility aid that offers patients suffering from a footor ankle injury a smooth-rolling alternative to crutches during their recovery. This steerable knee scooter lets you easily maneuver through your home or public spaces, indoors or outside, and its lockable braking system helps you stop and keeps you securely in place when you need to stay put.
Use the BodyMed Knee Walker wherever you go: at home, out shopping, enjoying the outdoors, and at the office. This portable, steerable knee scooter is convenient on vacation, and traveling with a knee walking caddy is easy! Don't cancel your plans when you have an injury—the knee mobility walker makes amusement parks, trade shows, and music festivals more accessible for you and your family.
BodyMed Economy Knee Walker Features
Adjustable Height
The steering column and knee pad column are adjustable, allowing you to find the height that suits you.
Lightweight & Durable
With a maximum weight limit of 300 lb., this sturdy and durable mobility aid provides the security you need while remaining lightweight at approximately 20 lb. for easy portability.
Detachable Basket for Personal Items
Secure your personal items safely using the attachable basket! Conveniently located on the front, keep your personal items at arm's reach.
Dual Rear Braking System
Dedicated to keeping you safe, the BodyMed Knee Walker features a dual rear braking system triggered by hand brakes for quick stopping and easy control of the roller.
Ergonomic Comfort
Provides a smooth, not jarring ride so it's easier on your joints and body overall. Featuring a washable, plush cover, the adjustable knee pad is ergonomically designed to provide knee comfort as you recover.
Portable & Easy to Store
Go wherever you please with this portable, lightweight knee walker. Its foldable frame and detachable features make it convenient for easy carry and storage.
Choosing BodyMed® means getting more.
For more than a decade, BodyMed has been providing healthcare professionals and patients with reliable, affordable products for health and healing. Synonymous with quality and value, BodyMed is fast becoming the preferred brand for healthcare providers and patients across the country. So whether you need a mobility aid, a TENS unit for pain, a cervical pillow roll for your neck, a moist heating pad to soothe aches, or any of a variety of other products, you can count on BodyMed for the performance and durability you need to support healing and better daily living.