Lacrosse Balls - Blue Dozen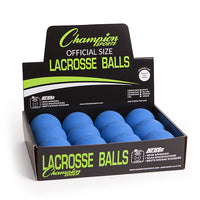 Play like a pro with Champion Sports Lacrosse Ball or use as recovery method in combination with your foam roller.
First it is designed to meet NCAA and NFHS standards, the Champion Sports Lacrosse Ball can be used during practices and games at recreational, high school, and collegiate level tournaments. Made from molded rubber, this lacrosse ball is the official size and weight, and is constructed to improve shooting accuracy during practices and gameplay.
Secondly, the small size of Champion Lacrosse Balls allow your team members or yourself to easily target and release trigger points in small muscle groups or joint pockets, like the biceps, calves under the shoulder blades and along the spine. The small surface area of the lacrosse ball, along with its rubber construction, will effectively disperse built up lactic acid and break down trigger points. Help your members practice correct self-myofascial release with a lacrosse ball both before and after exercise to reduce soreness and aid in active muscle recovery.

For Lacrosse
• Approved by the NCAA 
• Meets NFHS Specifications 
• Molded rubber construction provides improved feel and accuracy 
• Official size and weight 

Sold by Pack - 12 Balls
Color: Royal Blue