BodyMed® 13" x 14" Lumbar Support Back Cushion, Black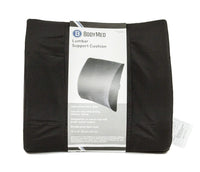 The BodyMed Lumbar Support Back Cushion supports your lower back and takes pressure off the lumbar region when you're sitting, driving or even relaxing at home. Avoid back problems caused by these seemingly normal activities by giving your lumbar region proper support. The Lumbar Support Back Cushion is specifically designed to fit any chair or car seat. The cushion is made of a durable, plush fabric that looks and feels great.
Helps prevent back strain.
Lets you relax while driving, sitting or resting
Designed for car seat or chair for proper lumbar support.
Durable plush fabric cover
Provides support to the lower back.