Adrien Gagnon Multivitamin Gummies for Kids - 180 Gummies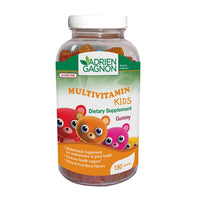 For over 70 years, the Adrien Gagnon team had your health at heart. Based in Quebec and internationally available in over 30 countries, our company is one of Canada's leaders in natural health products. We manufacture quality products, complying with regulations established by Health Canada.
Helps the body to metabolize carbohydrates, fats, and proteins.
Helps support growth and a healthy immune system.
Helps to Form Red Blood Cells
Helps in the development and maintenance of bones and teeth
Gluten Free and tastes great!