Adrien Gagnon - Vitamin D 1000 IU, Bone & Dental Health, Natural Orange Flavor, 100 Chewable Tablets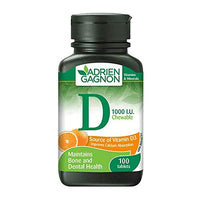 Vitamin D promotes calcium absorption. Vitamin D is needed for bone growth, Together with calcium, Vitamin D also helps protect older adults from osteoporosis. Our vitamin D chewable with orange flavor. It is easy and fun for consumption.
✔ NATURAL FORMULA used to help in the development and maintenance of bones and teeth.
✔ VITAMIN D 1000 I.U IS AN EXCLUSIVE FORMULA that helps in the absorption and use of calcium and phosphorus. Our chewable format leaves no bitter aftertaste, with a pleasant orange flavor.
✔ USING NATURAL INGREDIENTS ONLY, with gluten free, non-GMO, vegetarian formula. Our Vitamin D is a factor in the maintenance of good health, mood and supplementation.
✔ LACK OF SUN DURING WINTER may hinder natural vitamin D absorption. It is recommended for people who work inside don't have exposure to the sunlight.
✔ ADRIEN GAGNON is a proud Canadian company, providing consumers with the highest-quality natural products, vitamins and supplements. Our fans and customers are our most cherished asset, to whom we offer a promise of quality, satisfaction and health improvement. We understand how important your health is and stand by our 100% money back guarantee to vouch for your satisfaction.