Advanced Orthopedics AO Universal Cervical Collar Neck Brace, 2-1/2" H x 18" L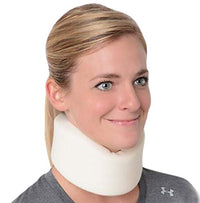 The Advanced Orthopedics ao universal cervical collar is a durable yet affordable neck brace option. Designed to help with whiplash, herniated cervical discs, and other minor neck injuries, the ao universal cervical collar is pdac rated and industry approved.
80% Cotton, 20%Neoprene, 100%Foam Padding
Imported
Medium-firm density foam covered with tubular knit fabric
Industrial strength hook and latch (Velcro) closure
Height refers to measurement under the chin
Length: 18" / height: 2-1/2"