Argentyn 23® Bio-Active Silver Hydrosol - 32oz.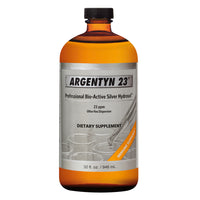 Argentyn 23® Professional Formula Bio-Active Silver Hydrosol for Immune Support*
Clinically Formulated Bio-Active Silver Hydrosol for Immune Support
Argentyn 23 is a professional grade, bio-active silver hydrosol used for helping to support the immune system.* Produced through a proprietary manufacturing technique, Argentyn 23 contains the smallest particles achievable.
Bio-Active Silver Ions
This formula contains greater than 98% bio-active silver ions and nanoclusters—exponentially more powerful than other brands, even those with 250 ppm, 500 ppm, and 1,000 ppm.
Easy Absorption
It has an unprecedented particle size as small as 0.8 nm (nanometers), validated by Transmission Electron Microscopy, that allows for easy absorption into and excretion from the body.
For the Whole Family
Argentyn 23 is formulated for the whole family.* Taken 3 times a day for 70 years, Argentyn 23 still falls below the EPA daily Oral Silver Reference Dose (RfD).†
Pure Silver & Water
Argentyn 23® Bio-Active Silver Hydrosol™ has only two ingredients: 99.999% pure silver and water that meets USP-NF standards for pharmaceutical-grade purified water.
Professionally Formulated Silver Supplement
Argentyn 23 Bio-Active Silver Hydrosol delivers a high-quality, professional formula formulated to support wellness.
Features
Its tiny particles provide greater surface area in an ultra-fine dispersion.
It contains a high percentage of positively charged bio-active silver ions and silver nanoclusters.
Its purity is created by using 99.999% pure silver in pharmaceutical-grade purified water without additives, stabilizers, or salts/proteins that render other silver products less effective.
Ultimate in Quality
With the smallest particles and highest charge ratio, Argentyn 23 Professional Formula is the ultimate refinement of colloidal silver, offering you the most effective* and safe* dietary silver supplement available.
Trust Argentyn 23
Purity. Consistency. Effectiveness.* These are what you want and expect in the products you buy. Our laboratories are equipped with some of the world's most advanced analytic equipment, and our team of scientists include in-house experts specialized in nanoparticle science. Our family-owned business has led the industry in Bio-Active Silver Hydrosol™ science since 1997 and has been delivering the highest quality silver supplements since 1999. Our products are vegan, gluten free, GMO free, and have not undergone any animal testing.
Committed to Health Freedom & Sovereignty
Family owned and operated, Natural Immunogenics Corp. leads the industry in the research and development of colloidal silver and mineral colloidal hydrosol products and is committed to educating people on the principles of health freedom and health sovereignty as well as defending silver and its use in immune support supplementation.
*These statements have not been evaluated by the FDA. This product is not intended to diagnose, treat, cure, or prevent any disease.
California Residents: Proposition 65 requires notifying California consumers of substances in consumer products which might cause cancer, birth defects or other reproductive harm. Natural Immunogenics' products have been tested and do not require notification.
† According to the EPA (CASRN 7440-22-4) daily Oral Silver Reference Dose (RfD) applied to 23 ppm, one may ingest 76,650 servings safely over 70 years.