BetterPosture Saddle Chair Ergonomic Back Posture Stool with Tilting Seat Red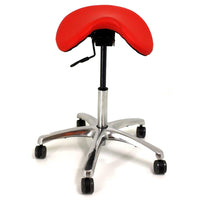 This ergonomic chair's tilting saddle seat design enables the user to keep their pelvis in a natural position, with the hips and thighs curving forward. The angle of tilt can be adjusted by the user to suit their own comfort level. The chair's design encourages the user to sit straighter and slouch less, reducing the chances of experiencing neck and back pain. This chair also enables better blood flow to the legs because it eliminates the pressure point where a standard chair's seat edge tends to restrict circulation in the backs of the legs. Your weight will be more evenly distributed and you ll feel more relaxed when you use this ergonomic chair.
SADDLE SEAT SHAPE. Saddle seat shape incorporates a waterfall effect allowing the legs to hang naturally from the stool while sitting, thus reducing pressure on the backs of the thighs, for greater comfort and improved circulation to the lower legs. Its ergonomic shape promotes correct spine posture and helps strengthen core muscles for a stronger back. The seat's tilting mechanism allows the user to set the sitting angle they re most comfortable with.
STURDY STEEL CONSTRUCTION. Tubular metal frame and components accommodate users weighing up to 250 lbs.
EASY-CLEAN MATERIAL. Durable pleather seat cover is easily wiped clean, for a quality appearance that stays looking good.
GAS LIFT HEIGHT ADJUST. Allows positioning of seat from 21 to 28
POLISHED ALUMINUM FIVE-POINT BASE / TWIN-DISC NYLON CASTERS. Distributes weight evenly and allows for easy rolling in all directions, even on carpet.