Biofreeze® Professional Pain Relieving Spray - 16 oz. Spray Pump - Colorless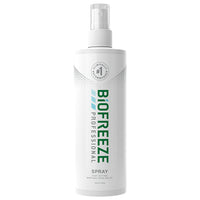 Biofreeze Professional Cold Therapy Pain Relief, the #1 used and recommended topical analgesic brand, takes the legendary Biofreeze experience and makes it even better for you and your patients. The formula provides a longer lasting experience, thanks to additional menthol in the Biofreeze Professional formula. Use the Biofreeze Professional Spray application style that goes on smoother than ever and without additional mess. The new Biofreeze Professional helps alleviate pain from backaches, arthritis, sore muscles and joints, sprains, strains, and bruises. It's a great alternative to other forms of pain relief because it is non-systemic, non-narcotic and contains no NSAIDs (non-steroidal anti-inflammatory drugs), salicylates or other addictive substances.
Biofreeze Professional contains United States Pharmacopeia (USP) grade menthol to provide pain relief that works™. The new formula is still free of parabens and propylene glycol.
Spray application
Features a proprietary herbal blend
Free of parabens and propylene glycol
Colorless (dye-free)
Not tested on animals
Made in the USA