Body Sport® Cervical Traction Collar Neck Brace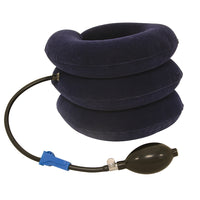 BodySport® Cervical Traction Collar
Relax & Relieve Discomfort & Tension
Help relieve discomfort and tension in the neck with the BodySport Cervical Traction Collar. Designed to gently stretch and relax the neck and shoulder muscles, this collar helps to improve spinal posture. This soothing relief will relax the neck automatically, working out the kinks in the neck and alleviating discomfort.
As designed, the BodySport Cervical Traction Collar may be used to do the following:
Help with neck spasms
Soothe stiff neck
Promote correct posture
Support proper alignment
Aid in decompression
Support the back & spine
Daily Wear
This traction device features a soft, durable cover for comfortable daily treatment. Plus, the internal inflator bulb can be removed if needed for easier movement.
Helps Improve Posture
This lightweight, comfortable cervical traction collar uses air traction to help improve posture, mobility, and circulation by relieving pressure from the neck, shoulders, and arms.
Relieves Pressure
The gentle stretch of this traction collar helps relax and take the pressure off muscles and joints for enhanced relief.
Portable Traction for On the Go
Experience relief wherever you go! This portable, compact device makes therapeutic traction possible everywhere—at home, at work, or even while traveling!
Adjust to Fit
This neck stretcher is easy to use. Simply place the neck traction pillow around the neck, adjust the circle to appropriate size with the hook-and-loop fastener, fix the Nylon strap in the front, and inflate the collar to the desired traction level.
Soothe & Relieve Tension Anytime
To help soothe discomfort, use 2–3 times daily for 10–20 days for relief from stress and pressure of the neck and shoulder, tension, muscles spasms, head and cervical vertebral area numbness. One size fits most. Instruction manual included.
Spend Less. Get More.
The BodySport brand was built on the belief that quality rehab tools and equipment should be affordable. For well over a decade, BodySport has been true to its mission: Supplying value-priced rehab exercise equipment and products with quality that meets or exceeds the design and performance of brand names.