Body Sport® Eco Series Exercise Balls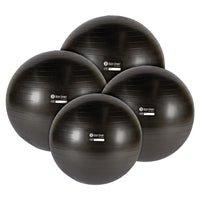 Environmentally Friendly Exercise Balls
Go eco-friendly when it comes to selecting your gym equipment. Body Sport Eco Series Exercise Balls are 6P-free, latex-free and lead-free. Not only are they great for the environment, but extremely effective for targeting core muscles essential for stability and good posture. The Eco Series are a cost-effective solution for a variety of training techniques from push-ups on top of the ball and plank pike-ups to ball passes and over head squats, these Body Sport Exercise Balls are a great addition to your equipment arsenal and available in multiple sizes.
Eco Series Exercise Balls Features
Eco-friendly exercise balls.
6P-free, latex-free and lead-free.
Slow Air Release
Available in multiple sizes.
Color: black.