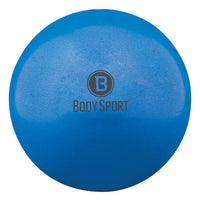 BodySport® Fusion Ball
Balance & Resistance Training in One
The BodySport Fusion Fitness Ball combines balance training and resistance training in one! Developed for maximum results, this exercise ball is perfect for Pilates, yoga, and strength moves to focus on major muscle groups.
Easy to Use
Enjoy worry-free, easy inflation with the included inflation staw. No pump required!
Not Made with Natural Rubber Latex
The BodySport Fusion Ball is not made with natural rubber latex, making it perfect for those with latex allergies.
For a Wide Range
of Exercises
At 7.5" x 10", this workout ball is perfectly sized for a wide range of exercises wherever you are!
Small & Durable
The BodySport Fusion Ball is it! Its small size and durability make it the perfect addition to any Pilates or yoga workouts.
Endlessly Versatile
Versatile and easy to use, this therapy ball can be used for a variety of exercises from isometrics to core strengthening.
Lightweight & Portable
Designed for convenient carry and storage, this small, lightweight, and portable training ball can be used anywhere.
Perfect for Abs & Legs
Use this workout ball behind your lower back for improved ab workouts or in between your knees or ankles for increased leg engagement.
At-Home Therapy
Personalize your at-home therapy with the BodySport Fusion Ball. Simply add it to your physical therapy equipment to maximize your strength, balance, posture, and core training.
Spend Less. Get More.
The BodySport brand was built on the belief that quality rehab tools and equipment should be affordable. For well over a decade, BodySport has been true to its mission: Supplying value-priced rehab exercise equipment and products with quality that meets or exceeds the design and performance of brand names.