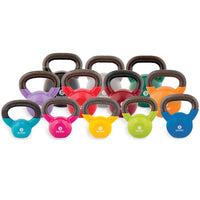 Take Your Abs from Flab to Fab with Power Building Kettlebells
Body Sport Kettlebells are ideal for those seeking rock-hard abs and a seriously strengthened core. Kettlebells are versatile and perfect for explosive exercises that work major muscles. Burn body fat and build power with graduated weights from 5 lbs. to 50 lbs. Increase your strength one step at a time by purchasing individual Kettlebells.
Kettlebell Features
Kettlebells in bright colors with super-thick handles.
Available individually.
Build endurance and muscle strength.
Color-coded weight graduations.
Individual kettlebells available in 5 lb., 10 lb., 12 lb., 15 lb., 18 lb., 20 lb., 25 lb., 30 lb., 35 lb., 40 lb., 45 lb., and 50 lb. sizes.