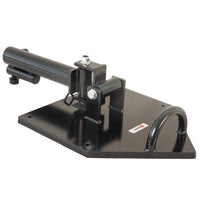 It's a Landmine of Fitness Training
Landmine exercises have become increasingly popular in recent years. The Body Sport Landmine is one of the premiere ground-based rotational training devices on the market today because it works the entire body: shoulders, hips and core muscles. It's effective because it allows you to perform explosive arm movements and rotational exercises in multiple planes by inserting a standard or Olympic-size bar (sold separately) into it's 12" or 4" pivoting sleeve. The Body Sport Landmine is portable so it can go from the gym to your home weight room with ease. Made of solid steel with a non-skid rubber bottom, it's much safer than traditional barbell training.
Performs explosive 1 and 2 arm rotational exercises.
Has 12" and 4" sleeves to insert standard or Olympic bars (bars sold separately).
Made of strong solid steel.
Features non-skid rubber bottom for stability.
Dimensions: Base 19" x 16".
Assembly required.