Body Sport® Landmine Wide Handle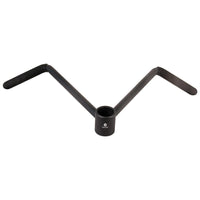 Take it to the Widest Position
The Body Sport Landmine Wide Handle is made to attach to a standard or Olympic bar for use with the Landmine - a ground-based rotational training device that gives a full-body workout targeting the shoulders, core and hips. The wide handle grips are ergonomically positioned at approximately 26" apart, is made of solid steel construction and comes in a sleek black finish.
Landmine Wide Handle Features
Attaches to Landmine bar for rotational training.
Connector pivots side-to-side and top-to-bottom.
Ergonomically positioned approximately 26" apart.
Made of solid steel.
Color: black.
Assembly required.