Body Sport® Loop Tubing with Foam Pads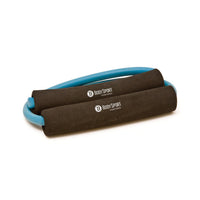 Strengthen & Tone
BodySport's Resistance Loop Tubing is designed to help you tone and strengthen muscles, build stamina, and speed up your metabolic rate. Featuring a durable design and foam pad handles, this resistance tubing is perfect for fitness training and other health and wellness activities.
High-Quality
Materials
The BodySport Resistance Loop Tubing features solid metal coated with neoprene and includes foam pad handles. Not made with natural rubber latex.
Choose the Right
Resistance for You
Choose the resistance level that's right for you! With multiple levels of resistance, BodySport Resistance Loop Tubing makes it easy to select the right resistance for where you are in your fitness journey.
Perfect for
Home or Gym
Measuring 24", this lightweight resistance tubing loop is great for on-the-go training whether you're at home or the gym.
Increase Your Strength
There are many benefits to adding Loop Bands to your training routine, including better posture, increased muscular strength and muscular mass, and burning additional calories.
Great for Flexibility & Strength Training
Ideal for progressing strengthening exercises, particularly in physical therapy and rehabilitation settings, BodySport Loop Tubes are the perfect addition to any strength and flexibility training workout.
Durable for Aggressive Training
These professional-grade tubes are built to last and maintain their elasticity over many years of training. Made using significantly thicker and higher-quality materials than others, these resistance loops are typically used by athletes, coaches, personal trainers, physical therapists, and other professionals who need the most advanced product.
Affordable, High-Quality Rehab Essentials
BodySport offers an exceptional value on therapeutic exercise and rehabilitation equipment. The brand accommodates the needs of healthcare professionals by offering affordable solutions without sacrificing quality.
Cost-effective, reliable products
Designed for patient rehabilitation
Ideal for healthcare professionals