Body Sport® Lumbar Roll for Lumbar Support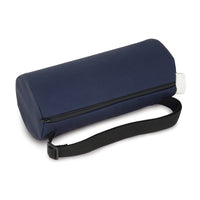 Color:Firm
This firm, lumbar roll provides relief from back pain and reduce pressure on the spine's discs. An adjustable strap allows you to attach the roll to a chair, auto seat, or even wear it around your waist for support wherever you sit. The Body Sport Lumbar Roll can be used in Pilates or yoga practices, or for rehab after a medical procedure. This high-density foam lumbar support pillow can be hand washed and is not made with natural rubber latex.
Relieve back pain by reducing pressure on your spinal discs with this 36 inch by 6 inch lumbar roll.
Adjustable strap allows the lumbar roll to be attached to automobile seats, and desk chairs to provide lumbar support and comfort in multiple settings.
Use the lumbar roll for comfort and support during exercises, rehabilitation, or sitting in a chair.
The Body Sport Lumbar Roll is hand washable so it can provide lumbar support and relieve back pain for many years.
Lumbar rolls are recommended by physical therapists, chiropractors, personal trainers, and massage therapists for lumbar support.