Body Sport® Pump Set Rack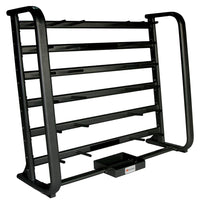 Body Sport Portable Mat Racks Keep Your Facility Mess-Free
Make sure your studio is set up for organization and cleanliness with Body Sport Mat Racks. Choose one of our portable mat racks that hold both hard or soft mats and yoga mats. Simply lay mats over the bars to store. The portable mat rack can store up to 40 1/2" thick mats or up to 25 3/4" thick mats. Non-marking casters will leave your floor scuff-free. If that's not enough storage space, try Body Sport's larger portable mat rack, which features enough space to hold up to 100 1/8" thick mats or 50 1/4" thick mats.
Portable Mat Rack Features
Portable mat racks feature non-marking casters.
Simple, reliable storage solutions for your soft, hard and yoga mats.
Durable construction will withstand wear and tear.