Body Sport® Resistance Tubes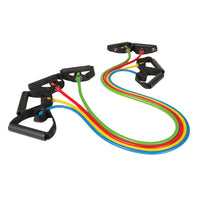 Resistance Training Made Simple
The BodySport Fitness Performance Tubes are specially designed for resistance training workouts. The natural rubber tubing provides a smooth, comfortable, and consistent stretch.This set of 4 resistance bands can be used to tighten, tone, and strengthen your body when paired with a variety of different workout routines or physical therapy exercises.
Tighten & Tone
BodySport's Fitness Performance Tubes allow you to bring your workout wherever you go. They can be used to target an array of muscle groups so that you can strengthen and tone with repeated use.
Use These Resistance Tubes For:
Bicep Curls
Chest Presses
Upright Rows
Tricep Kickbacks
Easy to Use
Use the BodySport Fitness Performance Tubes at the gym, at home, or on the go. These easy-to use resistance bands can help tighten, tone, and stretch the arms, legs, back, and core.
Made for Intense Workouts
The BodySport Fitness Performance Tubes feature large reinforced handles, making them easier and more comfortable to use for workout routines or therapy sessions.
Upgrade Your Resistance Training
The BodySport Fitness Performance Tubes are designed to hold up to frequent and intense use in fitness facilities or home gyms. The Light and Medium resistance level tubes are 48" in length and the Heavy and X-Heavy resistance level tubes are 52" in length.
Available in 4 Color-Coded Resistances:
Light Resistance (Blue)
Medium Resistance (Yellow)
Heavy Resistance (Red)
X-Heavy Resistance (Green)
Spend Less. Get More.
The BodySport brand was built on the belief that quality rehab tools and equipment should be affordable. For well over a decade, BodySport has been true to its mission: Supplying value-priced rehab exercise equipment and products with quality that meets or exceeds the design and performance of brand names.