Body Sport® Rubber Chrome Kettlebells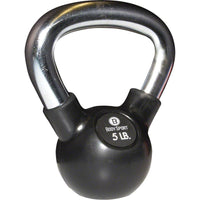 Body Sport Rubber Chrome Kettlebells Adds a New Dimension to Exercise
The Body Sport Rubber Chrome Kettlebells are a great fitness tool for developing strength, endurance, flexibility and balance. Constructed of solid chrome handles on a black dipped rubber base, the Kettlebells are sharp looking and built to last. Their smooth handles slide easily in your hands and have clearly marked weight references in increments from 5lbs. to 50lbs. Purchase the kettlebells individually or as a complete set for a more intense, steady progression training that works all major muscles groups, burns fat and increases power for sports or rehab.
Rubber Chrome Kettlebells Features
Builds endurance, strength, coordination, balance and flexibility.
Smooth chrome handles slide easily in hands.
Easy to read weight nameplates.
Heavy kettlebells have extra large handles to accommodate both hands.
Made of solid chrome on dipped rubber base.
Weights: 5 lb., 10 lb., 12 lbs., 15 lb., 18 lb., 20 lb., 25 lb., 30 lb., 35 lb., 40 lb., 45 lb. and 50 lb.
Color: Black.
Sold individually or as complete set.