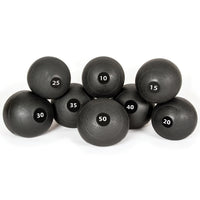 Rugged for High-Impact Exercise
Experience a full-body workout with BodySport Slam Balls. Rubber-coated, these non-bouncing functional training balls are designed for high-impact exercise and rugged use.
Available in Multiple Weights
These slam balls are available in 10 lb., 15 lb., 20 lb., 25 lb., 35 lb., 40 lb., and 50 lb. weights to help increase your stamina and strength!
Step Up Your Workout
Because they don't bounce, you'll engage more muscles retrieving the ball from the ground, adding another element of difficulty to your workout.
Perfect Grip
With its gently ridged surface, BodySport Slam Balls have improved grip for all of your training needs.
Multiple Uses
Use Slam Balls for ball slams, overhead throws, ball push-ups, and many other functional exercises. Also recommended for use with deadlifts, squats, and other resistance and strength training exercises.
Keep It Clean!
The BodySport Slam Balls are easy to clean after core-strengthening exercises. Wipe down with a damp cloth or gentle dish soap and rinse with water.
Spend Less. Get More.
The BodySport brand was built on the belief that quality rehab tools and equipment should be affordable. For well over a decade, BodySport has been true to its mission: Supplying value-priced rehab exercise equipment and products with quality that meets or exceeds the design and performance of brand names.