Body Sport® Studio Series Charcoal Fitness Balls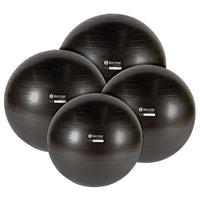 Stock Your Studio with Our Professional Exercise Balls
When you want the best equipment in your facility, choose the Body Sport brand. Like our other fitness products, our Studio Series Exercise Balls are sure to please you — and your clientele. Built to last, even in a demanding environment like a busy health club, our professional Exercise Balls are exactly what you'd expect from Body Sport — with a few extras. Each Exercise Ball comes with a unique label that displays the size, recommended user height. Body Sport's professional Exercise Balls have a gently ridged surface to promote secure gripping, as well as slow air deflation. Made in charcoal grey, Studio Exercise Balls come in several sizes: 45 cm (4' 7" - 5' 0"), 55 cm (5' 1" - 5' 6"), 65 cm (5' 7" - 6' 1"), and 75 cm (6' 2" - 6' 8").
Professional Exercise Ball Features
Comes with 2 plugs, plug removal tool and measuring tool.
Dynamic weight: 600 lbs.
Static weight: 1000 lbs.
Latex-free.
Pump sold separately.