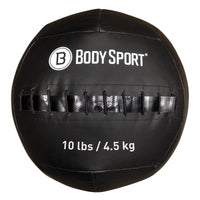 Help Clients Build Dynamic Strength with Body Sport Wall Balls
The Body Sport Wall Ball is a high-intensity tool that fully-maximizes your workouts. It's ideal for rotational movements, core exercises and for improving dynamic functional strength whether you want to target one particular area or get a full-body workout - the choice is yours. The Body Sport Wall Ball has an impact-absorbing design that allows you to throw, catch and be struck by the ball safely. Made with a heavy-duty vinyl casing that's moisture and scuff resistant, it's professional-grade stitching contains filler material that distributes weight evenly to maintain its shape. Perfect for balance resistance workouts and rehab exercises, the Wall Ball measures 14" in diameter and is available in several weight options.
Builds dynamic strength, endurance and conditioning.
Ideal for rotational movements and core exercises.
Use for balance resistance and rehab exercise.
Impact-absorbing design and professional-stitched construction.
Durable vinyl shell with filler material for even weight distribution.
Dimension: 14".
Sizes: Available in several weight options.
Moisture and scuff resistant.