BodyMed Disposable Face Cradle Covers - Medical-Grade, Ultra Soft, Luxurious, Non-Sticking Massage Face Covers/Headrest Covers for Massage Tables & Massage Chairs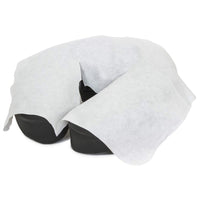 BodyMed® Crescent Covers
Comfortable Protection
BodyMed Crescent Covers protect massage tables or massage chair headrests while increasing a user's level of comfort. These super soft, absorbent, and disposable cushion covers also protect headrests from bacteria, unsanitary oils, makeup, and stains. Designed to fit neatly and securely on headrests, the BodyMed Crescent Covers further enhance a user's experience.
Convenient
to Use
BodyMed Crescent Covers are a convenient replacement for cotton or flannel covers that require regular laundering.
Protects
Equipment
BodyMed Crescent Covers for massage chairs or tables protect users from contamination and tables or chair upholstery from dirt and oils that can lead to deterioration.
Maximize User Comfort
These disposable face cushion covers feel soft against the skin, maximizing user comfort and enabling them to more fully relax.
Reliable
Protection
Thick enough to provide reliable protection, these medical-grade face cradle covers also conform to the shape of nearly any headrest or face rest cushion.
Pack of 100
These flat, disposable face cradle covers come in a convenient pack of 100 that is easy to store and transport.
Additional Features
Ultra soft
Non-sticking
Medical grade
Durable
Hypo-allergenic
Designed with Users In Mind
The BodyMed Disposable Face Cradle Covers are designed for use with a massage chair or table. With this resealable pack of face cradle covers, you can efficiently change covers after each user.
Disposable & Ultra Soft
Stock your facility with best-in-value face cradle covers from BodyMed. These disposable sheets are designed to provide protection and comfort to users.
Best-In-Value Products
For more than a decade, BodyMed has been providing healthcare professionals with reliable, affordable products for patient care and clinic operations. BodyMed is synonymous with quality and cost-effective utility, which is why you'll find BodyMed products in clinics across the country.
Cost-effective, reliable products.
Designed for patient rehabilitation.
Ideal for healthcare professionals.