BodyMed® Basic Exam Stool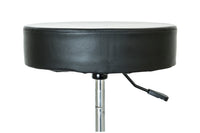 BodyMed Basic Exam Stool
Ergonomically-Designed Exam Stool
The BodyMed Basic Exam Stool is an essential item for any exam or treatment room. This medical exam stool is designed to provide years of reliable workday service with its solid construction and straightforward features. The firm seat cushion provides comfortable support while the four wheels make it easy to move across floors. Use this exam stool from BodyMed for increased productivity and comfort while providing care in an office, clinic, or spa.
Easy to Move
With five casters, this durable exam stool makes it easy to move smoothly and quietly across floors while assisting patients or clients.
Adjustable Gas Lift
This exam stool features a gas lift that allows the stool to adjust from 18.5" to 25".
Stool Measurements
The BodyMed Basic Exam Stool features a 15" diameter seat cushion that is 3.15" thick. This ergonomic exam stool holds up to 300 lb.
No Tools Needed to Assemble
This easy-to-adjust exam stool can be used on hard floors or carpeted surfaces. It requires no tools to assemble.
Ready to Roll
The pneumatic, ergonomic BodyMed Basic Exam Stool is a cost-effective solution for reliable support in an exam or treatment room.
Built with Comfort In Mind
Sit comfortably in the BodyMed Basic Exam Stool, which is easy to clean between patient or client visits.
Best-In-Value Products
For more than a decade, BodyMed has been providing healthcare professionals with reliable, affordable products for patient care and clinic operations. BodyMed is synonymous with quality and cost-effective utility, which is why you'll find BodyMed products in clinics across the country.
Cost-effective, reliable products.
Designed for patient rehabilitation.
Ideal for healthcare professionals.