BodyMed® Formulations Massage Lotion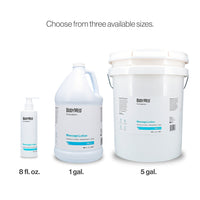 Soften, Smooth, & Nourish the Skin
Enhance your massage with BodyMed Formulations Massage Lotion! This vitamin-enriched formulation is ideal for all types of clinical massage—from Swedish and deep tissue to Shiatsu and reflexology. Providing long-lasting glide and optimal workability, this massage lotion is non-greasy, lightweight, and unscented. This water dispersible formulation washes out of linens and clothing with ease. Use it on all skin types.
Professional Quality Formulation
BodyMed Formulations massage mediums are made in the USA with high-quality, efficacious ingredients. Their objective is to offer premium quality skincare formulations to professionals and those they serve.

Ideal for All Types of Clinical Massage

Swedish
Deep Tissue
Sports Massage
Facial Massage
Trigger Point Therapy
Reflexology
Fragrance-Free Formula
BodyMed Formulations Massage Cream is free of gluten, formaldehyde, nuts, fragrance, and parabens—making it ideal for all skin types. External use only. Substitutions of these ingredients may occur: Octyl Palmitate / Sunflower Oil / Soybean Oil / Canola Oil. Please keep in mind that this means the consistency of the product may change slightly.
Nourish the Skin
This lightweight, yet nourishing formula will provide softer, more hydrated skin. Use this massage lotion year-round to restore the skin barrier. The BodyMed Formulations Massage Lotion is a pumpable formula, making it easy to use. Pump not included.
Arnica Extract – Soothes soreness and helps to reduce inflammation.
Vitamin E – Powerful antioxidant that nourishes the skin.
Jojoba – Ideal for conditioning and softening the skin.

Vitamin C – Helps to even skin tone and reduce dark spots.
About BodyMed Formulations
Offering a professional line of simple, yet effective formulations for health and wellness, BodyMed Formulations was founded on a commitment to bring clean, sustainable products to professionals. Their mission is simple: high-quality, efficacious products that support skin health and wellness.