BodyMed® Premium Chiropractic Headrest Paper Rolls, Smooth White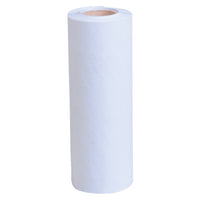 BODYMED® PREMIUM HEADREST PAPER, SMOOTH

Keep your exam tables sanitary and comfortable with BodyMed® Premium Headrest Paper. This affordable, durable medical paper is made extra strong to resist tearing, and finished with a silky smoothness that assures each patient stays comfortable and relaxed. It also protects your table from dirt and moisture, helping it stay clean and last longer.
PROTECTIVE. This durable headrest paper protects exam table upholstery from dirt and moisture, helping it to stay clean and last longer
SANITARY. BodyMed premium headrest paper helps prevent cross-contamination from patient to patient
PROFESSIONAL. Gives your clinic a clean, hygienic, professional look, putting your patients more at ease
COMFORTABLE. This BodyMed paper is finished with a silky smoothness that assures each patient stays comfortable and relaxed
DURABLE. This affordable, durable medical paper is made extra strong to resist tearing