BodyMed Headrest Paper Rolls, White Economy, Smooth Texture, 8.5" x 225', 25 Rolls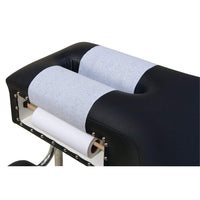 Durable Headrest Paper Rolls
Keep your exam tables sanitary and comfortable with BodyMed Headrest Paper Rolls. This high-quality, durable medical paper is made extra strong to resist tearing. It is finished with a silky smoothness that ensures comfort and relaxation. These rolls are ideal for convenient infection control.
Clean & Hygienic
Give your exam table a clean, hygienic, and professional look with these white headrest paper rolls.
Reliable
Offer convenient, reliable infection control with disposable BodyMed Headrest Paper Rolls that help to prevent cross-contamination.
Smooth
on the Skin
These headrest paper rolls are finished with a silky, smooth texture for added comfort and support.
High-Quality
Ideal for chiropractic, physical therapy, massage, and other rehabilitative treatments and services.
Efficient Protection
Protect your environment with this soft, disposable layer of comfort placed on headrests. With these disposable paper rolls, you can operate more efficiently.
Product Details
Each headrest paper roll is 8.5" x 225' with 25 rolls per case.
Best-in-Value Products
For more than a decade, BodyMed has been providing healthcare professionals with reliable, affordable products for patient care and clinic operations. BodyMed is synonymous with quality and cost-effective utility, which is why you'll find BodyMed products in clinics across the country.
Cost-effective, reliable products.
Designed for patient care & clinic operations.
Ideal for healthcare professionals.