Concave Lumbar Support Pillow – Office Chair or Car Seat Support Pillow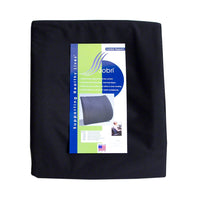 CONCAVE LUMBAR CUSHION This lumbar support pillow helps promote proper spinal posture while sitting in a chair in the office or at home, or while driving or traveling in a vehicle. It features a concave shape that hugs the back, providing greater comfort and support. Its adjustable strap allows it to be secured around any chair or car seat, adding cushioning softness to hard or uncomfortable chair backs.
CONCAVE SHAPE. Hugs the back for greater comfort and stability.
QUALITY FOAM. Polyurethane foam core provides cushioning and support.
ADJUSTABLE STRAP. Elastic strap with buckle allows the cushion to be conveniently secured in place.
TWILL COVER. Zippered cover is made of washable, durable twill fabric.
USE ANYWHERE. This lower back pillow makes an excellent desk chair pillow at work or driving back pillow in your vehicle.