CranioCradle Sport DT (Deep Tissue) - Quality Neck, Back, Shoulder for Deep Tissue Massage, Myofascial Release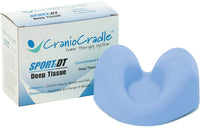 Simple, Natural Relief!
The CranioCradle Sport Deep Tissue is an easy-to-use, effective therapy system that gently helps relax tense muscles; relieve aches, discomfort, and fatigue; and provide deep relaxation. Based on osteopathy, craniosacral, and massage therapy techniques, the CranioCradle Sport Deep Tissue provides concentrated pressure that is meant to be used by individuals with dense muscle mass, large-type body size, or those with a preference for deep tissue therapy.
It is specifically designed to aid in the alignment of the neck, help restore range of motion (ROM), and support the natural curve of the cervical spine, which helps with forward head posture, forward shoulders, headaches, and TMJ.
Helps those with shoulder impingement. Use this therapeutic device in multiple positions under the head, neck, body, and sacrum to decompress vertebrae, create mild traction, release trigger points, enable still points, and melt away restrictions and stress throughout the body. Recommended to help ease headaches, migraines, chronic neck and shoulder discomfort, TMJ, whiplash, and low back aches.