Digital 8200 OTC TENS Unit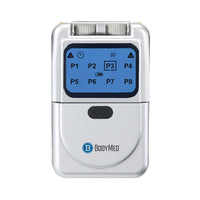 Provide yourself with considerable pain relief in areas of the lower back with the BodyMed™ Digital OTC TENS Unit. Intended for temporary relief of pain associated with sore and aching muscles due to strain from exercise or regular daily activities, this dual channel stimulator can send continuous electrical impulses from the comforts of home -- no prescription needed to order. Power on/off the device and adjust current strength of impulses with the turn of switch. The controls are protected by a cap to avoid unintentional change of intensity. Included with the OTC TENS Unit are (4) 40 x 40 mm adhesive electrodes, 2 electrode leads, a 9 V Battery (type 6F22), an instruction manual and carrying case.
Uses continuous stimulation pulse generated from dual channels relieve muscle pain and soreness.
Liquid crystal display (LCD) indicates operation modes and output.
Slide-on panel covers the controls for selecting mode and adjusting settings.
Has a timer that can be set for 15-, 30- and 60- minute treatment periods, or use the selectable continuous mode.
Each device package includes:

(4) 40 mm x 40 mm adhesive electrodes
(2) electrode leads
9-volt battery
Instruction manual and carrying case.