Economy Gym by PrePak Products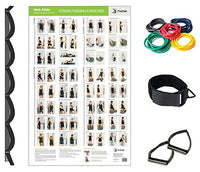 Economy Gym by PrePak Products
This equipment assortment offers the exercise devices most commonly used in a professional setting.
It's a great collection for those who use pulleys and tubing on a regular basis.
It makes exercising safe, convenient, and easy-to-do.
The lightweight, portable home gym provides all the exercise versatility and comfort of the Web Slide Exercise Rail system.
The Economy Home Gym includes: Around-the-Door Web Anchor Strap, Five pre-cut, six-foot ExerBand tubes, Two EZ Change Handles, One Extremity Strap and One Tubing Exercise Poster.