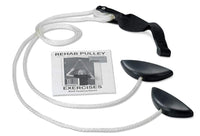 All you need is an Around-the-Door Anchor Strap, which cinches around the door like a sturdy belt. Add Tubing, Handles and an Extremity Strap and you have everything you need to stay fit.
With 15 easy-to-use anchor loops you can exercise lower extremities, upper extremities and core in the privacy of your home or office.
Used in the home, between office visits, the Economy Pulley helps patients increase gains made in the clinic.